5 Of The Best Open Mics In The UK
So you like open mics?
This is a list of 5 of the best open mics in England that I have visited or performed at. Not THE five best or THE ONLY five that you should attend but just five that you should not miss if you're an open mic performer, open mic listener or if you're new to the whole thing and would like some authentic live music.
And why should you listen to me?
Well to be honest there's no reason but I am a big open mic enthusiast. I work full-time as a musician, travelling across England and I played over 350 gigs in 2016, many of them open mics. Perhaps most importantly I am an open mic-er like you (probably…) and I've come to realise one of the most valuable things about being at open mics is the community and the shared knowledge that comes from that. So without further ado, in no particular order, here we go:
The Whiskey Jar, Manchester – Tuesdays, 8pm
The Whiskey Jar is a rare jewel in a city encrusted with open mics, particularly in the bohemian Northern Quarter. I'll be honest, I could have picked many of these great open mics for a mention and I have a mind to credit them later. However, it is known even among other open mic hosts in Manchester that The Whiskey Jar is a very special place.
Rarely can you ever guarantee a quiet and attentive crowd which is why excellent performers flock to this spectacularly atmospheric open mic. The night is hosted by Joe McAdam, who rules the roost with an iron fist, shouting playful and sometimes close-to-the-bone insults at anyone who disturbs the silence during the act's performances. It's an approach that divides opinion but there's no doubt from anyone that it produces an excellent environment for the musicians to do what they do best. If you're looking for a memorable evening of live music in Manchester, you can guarantee that here.
Positives: An atmosphere like no other and a great night of live music guaranteed.
Negatives: If you don't like swearing or staying quiet, this might not be for you. If you're playing, you must book a slot with Joe before arrival
Surf Cafe, Tynemouth, North Shields – Wednesdays, 8pm
When it comes to looks, Surf Cafe is the most distinctive and unique open mic on this list.
There's a bright array of colours in the décor with the seaside surfer theme they've adopted, which seems obvious when you consider its placement right next to Tynemouth beach and every space on the walls is covered with something to tip your intrigue. There are even bicycles suspended from the ceiling.
Of course, appearances aren't everything and Surf Cafe was in fact voted the 'best independent music venue in the North East. Hosted by JD O'Neill who is an enthusiastic host and was very forthcoming with last minute changes and requests for feature slots; Surf Cafe pulls in Newcastle and Tynemouth's best musicians around and given its reputation as a gig venue, it's hardly surprising that open mic-ers from all over the UK come to check it out.
Positives: It looks great, sounds great and its a cosy place to witness some magical musical moments.
N

egatives: The distance, Surf cafe sits close to a beach in Tynemouth which is a 20 minute drive from the nearest city Newcastle. In my

opinion, it's well worth the drive.
Paper Dress Vintage, London – Sundays, 6:30pm
The Noteworthy Open Mic in Paper Dress Vintage, as the name suggests, is certainly noteworthy. You are asked to arrive for sign up at 6:30pm for the open mic here, such is its popularity. Tucked inside a working vintage dress shop, the upstairs room comes alive on a Sunday night with a crazily varied night of entertainment. Choirs and comedians follow beatboxers and jazz bands in a hectic stream of acts where performers are allowed one song or five minutes each.
Open mic host Chiu Dat and co. offer a feature slot at Noteworthy which can be useful to touring acts and for the audience to see an artist hit their stride. It's an unmissable stream of the country's finest, all descending on a small vintage clothing shop with an incongruous upstairs room boasting a full back line, large red curtains and a disco ball.
Positives: It's one of the most eclectic nights of music, spoken word and comedy you're likely to see in London. Which is saying something!…
Negatives: As a performer, you are only allowed one song or the equivalent of 5 minutes.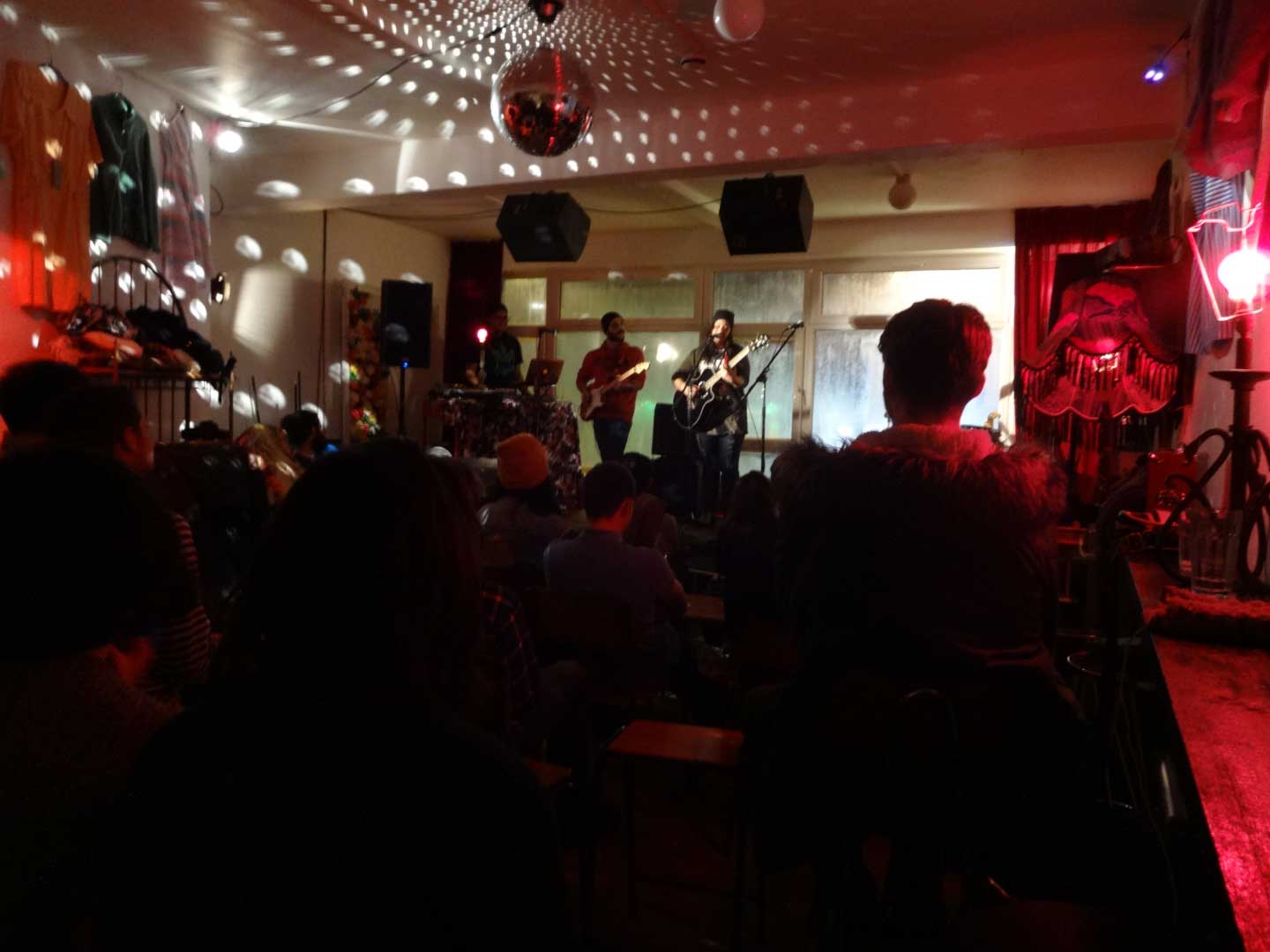 Alexander's, Chester – Tuesdays, 8pm
Alexander's in Chester is the longest-established open mic on this list, having been a part of Chester's live music scene every Tuesday for over 20 years. They've seen the likes of Ed Sheeran and Duffy perform at this ex-jazz bar that still sees weekly live music gigs in its delightful and unique setting where the stage is the lowest floor space in the room. Alexander's has a reputation as a brilliant live music venue and it's a staple of the Chester music scene with very good reason.
Hosted by Graham Bellinger and Mick Green, Alexander's in Chester is one of the most homely places to perform in my experience and I hope that's not just because I'm from nearby Northwich! It's a very supportive experience for musicians, and you need to stick around for the weekly jams afterwards where the music carries on into the night!
Positives: It's one of the most friendly and welcoming open mics I've been to and it's very supportive towards musicians.
Negatives: You'll have to be there before the start time to get a spot and slots go very fast! Only two songs each at this open mic.
Dusk, York – Sundays, 10pm
Busk at Dusk in York does not begin until 10pm, making it the latest start time on the list. Presumably because it would be improper to start before dusk during the Summer months. Again I could choose many great open mics from the tens of hundreds of pubs within York's walls but this one deserves a special mention.
Hosted by the acclaimed Blues and Country artist Boss Caine, it's the place where many musicians, even those who have played the largest venues in York that night, go to for one final musical jamboree. It attracts acts from all over the country but it's a small space with barely enough room for 30 people on the top floor of Dusk. The fact that I couldn't find a promotional photograph of the open mic in action shows how much of a well-kept secret this open mic is! It's well worth a visit.
Positives: It's the last stop on many people's musical venture through York on a Sunday evening so you never know who might turn up!
Negatives: It's a small space and it may be difficult to get a seat.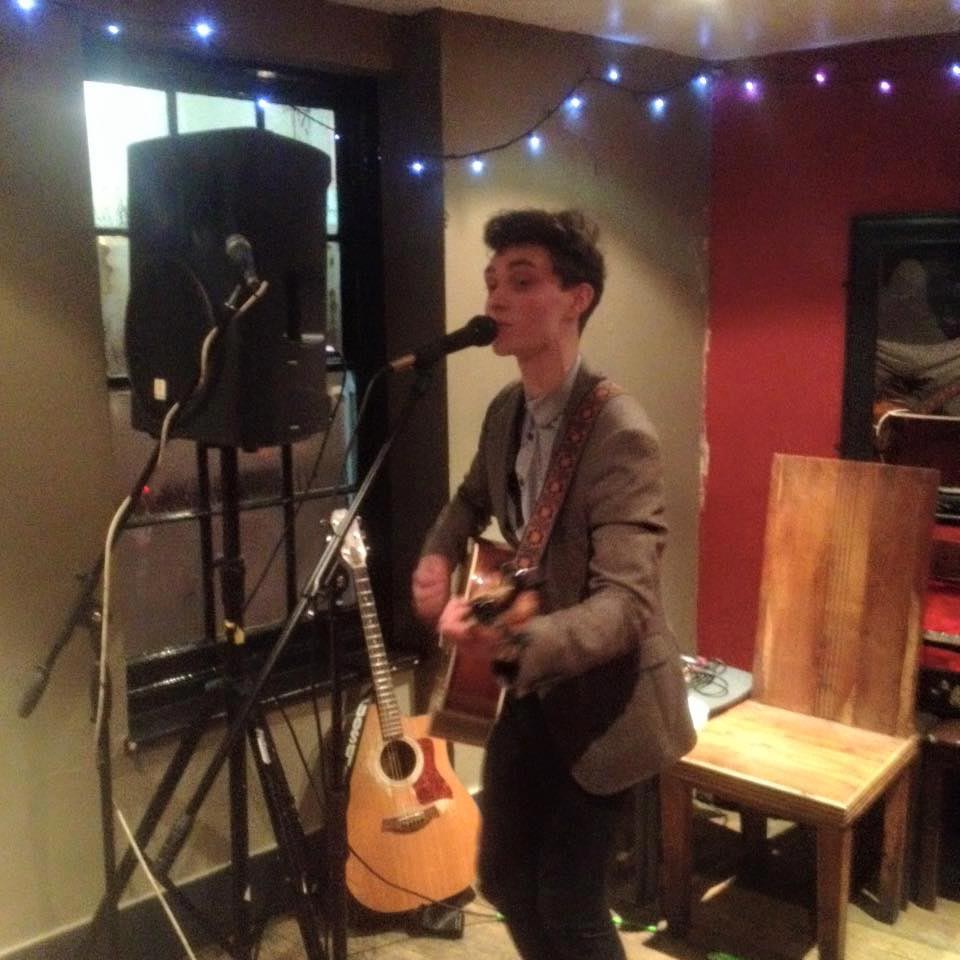 Now I know there are a great many more open mics that I didn't touch on, and I also know that the selections are improperly skewed towards open mics in the North rather than the South, open mics in England rather than the rest of the UK, so if you have any further suggestions please let me know at [email protected]
Happy open mic-ing!
Chris